Often called the 'non-surgical facelift' CACI facial treatments are a firm favourite with Hollywood A-listers and celebrities, including Jennifer Aniston, Kim Kardashian and Jennifer Lopez.
GLOW owner Sara explains: "We've worked with CACI for over 20 years and our clients love the advanced non-invasive facial lift treatments as they deliver visible results without the need for surgery.
"We've recently upgraded to the latest CACI Synergy system which combines the CACI Ultra with the CACI Ultimate, and uses new LED light technology. Our therapists can now harness the power of LED light therapy at the same time as using microcurrent, stimulating tissue regeneration and collagen production. In addition, dermabrasion, ultrasonic peeling and CACI's unique wrinkle comb (an alternative to dermal fillers) provide even more visible and longer lasting results."
Glowing words…
I am 77 and have been having CACI treatments at GLOW Mold for very many years. I have a treatment every 4 to 5 weeks – sometimes adding in an extra bolt-on as a boost. Occasionally, I even have two treatments in one week if I have a special event and want to look my very best.
The ambience of the salon, combined with the soothing expertise, warmth, knowledge and professionalism of the therapists make for an amazing result and a totally relaxing experience. I always leave GLOW with rejuvenated skin and a refreshed mind.
I'm especially pleased with the CACI eye treatment as I have inherited bags under my eyes which this greatly improves. I absolutely love CACI as it allows me to maintain my looks naturally, and feel good about myself. I really wouldn't be without it!
GLOW Mold client: Jane Tilston
What to expect at your CACI treatment
Your visit begins, as with all GLOW treatments, with an in-depth consultation to discover what you really want to achieve and to discuss any specific skincare concerns.
Then, after a thorough cleansing to prepare your skin, your lift begins. CACI facials are clinically proven and painless with over 25 years of medical research behind them. Your treatment is relaxing and enjoyable – indeed it is not uncommon for clients to fall asleep says Sara. In fact, it's always good to be rested during treatment as it is easier for your therapist to get the best possible lift.
Each CACI facial is bespoke and your therapist will personalise your treatment to give you the best result. This could be controlled skin exfoliation to reveal healthy radiant skin, ultrasonic deep cleansing to rid skin of make-up residue, blemishes and impurities or CACI's Wrinkle Comb which targets lines and wrinkles to provide a non-invasive alternative to dermal fillers.
Your visit finishes with expert advice on how to maintain your treatment at home and your skincare routine.
How often should I have a CACI facial?
"A single treatment will give you an instant and fabulous result," says Sara, "but – just like going to the gym – regular CACI treatments will give you a much more intensive result. For maximum results I recommend 6-20 sessions, but ask your therapist as she is best placed to advise you."
For a course of treatments we usually recommend 2-3 appointments a week, followed by a minimum monthly maintenance treatment. That said, CACI seems to be addictive and a lot of our ladies have them far more frequently!"
"A GLOW client told me recently that a CACI treatment is far less expensive and more enjoyable now she's in her 30s than a night in the pub – plus you have no hangover the next morning!"
CACI treatments for teenage blemishes and problem skin
CACI can help treat a number of skin concerns, including teenage problem skin and blemishes – our bespoke 30 minute CACI Synergy Purifying Facial (£30) is getting some amazing feedback.
This CACI facial combines exfoliation with anti-bacterial and anti-inflammatory LED light therapy to help heal the skin, trigger tissue repair and reveal a brighter, smoother complexion.
Anti-ageing for lips and eyes
CACI isn't just a non-surgical facelift it can also help with specific areas of concern such as eyes, jaw and lips.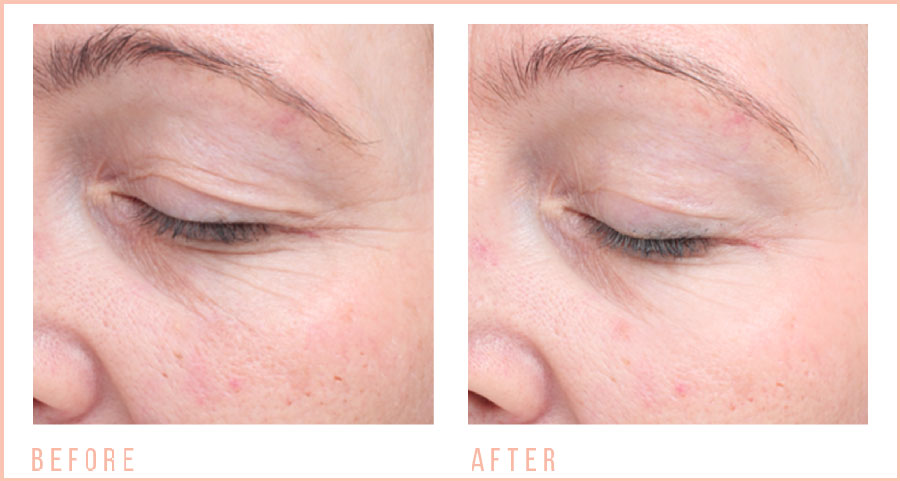 GLOW clients love the CACI eye technology which lifts hooded eyelids, reduces puffiness and dark circles while softening the appearance of fine lines and wrinkles around the delicate eye area (£30).
For luscious lips why not treat yourself to the CACI Ultimate Lip Plump? It's the needle-free, pain-free alternative to injectable dermal fillers and takes just 15 minutes. CACI's Wrinkle Comb combines with red LED light therapy to give your lips a fuller appearance and reduce fine lines – perfect before that special occasion (£30).
Both the CACI eye and lip treatments can be added onto any facial so anti-ageing really couldn't be easier.
GLOW for it!
For the ultimate facial Sara recommends combining CACI with Dermaquest (£130) to give extreme hydration and smoothly textured skin. The power of the Peptide Resurfacer immediately plumps lines and wrinkles and gives skin a brilliant glow and we then follow this with the renowned CACI lift.
Our therapists have worked with CACI for over 20 years and have the expertise to personalise your treatment to give you the best possible result. Why not book a consultation to discuss your skin concerns and decide on the best treatment for you? Browse our CACI treatment menu here.