I'm often asked about my own skincare routine and the products I love to make me glow, so I thought I'd share my lockdown favourites with you.
Bringing out my inner glow
In these strange times I love, and need, a routine. There are many things I ritualistically do each and every day, the same thing at the same time, giving me both structure and focus. My cleansing routine is one of these rituals…
I start with Decleor's Cleansing Milk. Its powerful Neroli essential oil helps repair dehydration, detoxifying Green Tea removes dirt and tightens pores, and its Sweet Almond oil leaves my skin feeling soft and comfortable.
I double cleanse at night and suggest you do too, especially if you've worn sunscreen or makeup during the day. And work that cleanser in. I emulsify with a little water before massaging it into my skin for a really deep cleanse, then remove it thoroughly with a warm damp face flannel before toning.
Take care not to use a cleanser that is too harsh for you. Too harsh a cleanser can cause dryness, while choosing one that's too rich may trigger oiliness and breakouts. Why not ask us to recommend the right one for your skin – we're always delighted to be able to help and advise and even deliver to you.
Set the right tone
I always tone. I have to – I just don't feel fresh unless I do.
If you're in a dash, or feeling tired, don't be tempted to skip this vital skincare step. Toner's function is to complete the cleansing of your skin, removing the dust, pollution, and impurities that can still linger after using a cleanser.
For me, morning and night, it's always Decleor's Toner, a professional-strength toner that leaves my skin feeling refreshed, revitalised and rehydrated. And glowing!
Glow for gold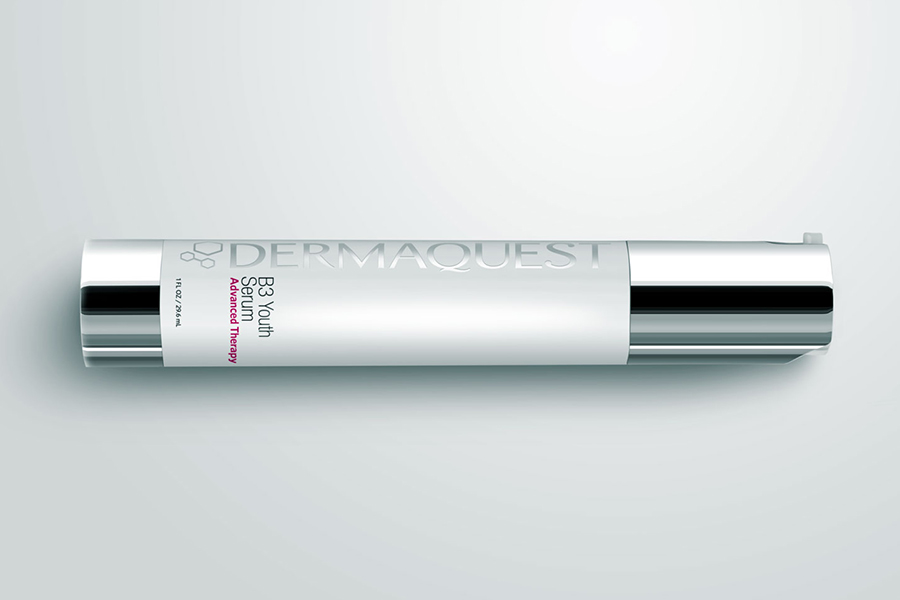 DERMAQUEST B3 Youth Serum is my favourite serum at the moment. I don't use it all the time, but right now I want to strengthen and calm my skin as it's a little stressed in these difficult times.
This potent serum goes deep to repair the skin's natural barrier, while simultaneously firming and hydrating, leaving me with a glowing, healthy, complexion. I also like the fact it has key antioxidants which help repair any environmental damage to my skin.
Glow brow glow!
During lockdown I am taking my own advice and only tweezing from the mono brow and any obvious strays – Rebecca, you will be so proud of me!
I've also been using RevitaBrow Advanced and I am loving my new fuller brows! This conditioning serum works wonders by delivering a blend of advanced peptides, revitalising extracts and nutritive vitamins to help give full, conditioned, defined and healthy brows.
I'm applying it once a day onto clean, dry brows. Only a few short strokes onto each eyebrow are needed as it's super concentrated.
And in case you just couldn't resist those eyebrow tweezers during lockdown I filmed this quick video (using Tweazerman tweezers of course)…
My little treat
I always make time for a two minute dry body brush, usually with our exfoliating mitts, before I jump in the shower in the morning.
Use long stokes along limbs, brush out from torso and then use circular movements around hips, bottom and stomach area.
After showering I massage in Slow Ageing Essential Firming Body Essence body oil, a heavenly-scented blend of deeply nourishing botanical oils, natural energisers and firmers for revitalised, smooth, silky skin. It's my treat – it lifts my soul, calms my mind and gives me real pleasure.
A golden glow
I use a sunscreen every day of the year, almost always by Dermaquest, their sunscreen is amazing! But I find Brush-on-Block (B.O.B to its friends!) indispensable, especially when I'm out and about.
It offers broad-spectrum protection from both UVA and UVB rays, and I love that it's free of the chemical ingredients found in many traditional sunscreens. Plus it's easy to reapply even over makeup, so perfect for when I'm outside all day.
So be kind to yourself as well as others, be happy and stay safe in life and in the sun too.
My love to you all as always,
Sara xx
GLOW on the GO…
Everyone has different skin concerns and it's vital to choose the right product for your skin, which is why we stock such a carefully selected choice of skin products at GLOW. We are taking your skin care product orders over the phone and by email, so give me a call on one of our numbers or email and we'll do everything to try to help you GLOW.
I'm always very happy to discuss your skin and beauty concerns, give you expert advice and recommend the right professional products for you.